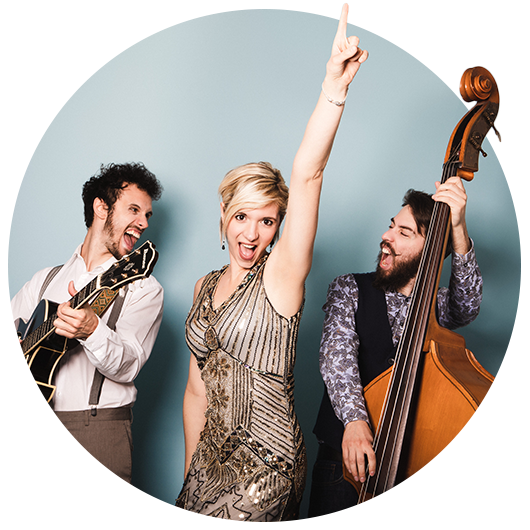 About The Futuristic Gramophones
Delivering a stylish performance of timeless jazz classics plus modern pop hits rearranged in the same vintage fashion, The Futuristic Gramophones are the perfect mix of old meets new! Effortlessly cool, this fun yet classy trio give the music of Taylor Swift, The White Stripes, Van Morrison & more, a big vintage makeover!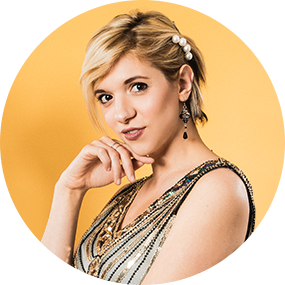 Francesca Confortini - Vocals
I am a versatile international performer with a strong background in Musical Theatre, Funk, Soul and Jazz. After graduating at the Performing Arts Academy of Milan, Italy (SDM - la Scuola del Musical) and taking part in different shows such as "Fame! The Musical" and "A Chorus Line", I have toured around Italy with my band 7s8 and then moved to London in order to achieve a bachelor degree in Popular Music Performance at the Insitute of Contemporary Music Performance. My experience includes studio sessions, recordings, voiceovers for radio ads and live performances with international artists and producers such as Leif Searcy, Paolo Costa, Paul Turner, James Lawrence, Giuliano Dottori and many others.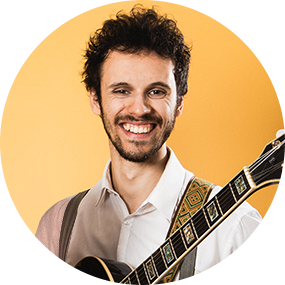 Aliocha Thevenet - Guitar
I'm is a world-class guitarist/composer, with an international record of success in musical contexts from rock and pop to indian music, soul and R'n'B to jazz. My portfolio includes live performance, studio and session work with some of the most popular artists and producers, including : Andy Sheppard, Jocelyn Brown, Kuljit Bhamra, Noël Akchoté, Jeremy Stacey, Ramon Goose. Grammy award winning producer Steve Power and many others. I've performed at prestigious venues such as : Wigmore Hall, Ronnie Scott, the Spice Of Life, the Troubadour, St James Theater, Bush Hall, Sunset (Paris) and Lyon Opera House (France), just to name a few.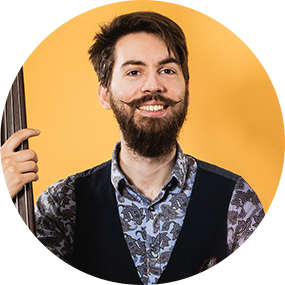 Giovanni Cresseri - Upright Bass
I am a young and experienced bassist and double bassist from Milan, Italy. After graduating at one of the most prestigious schools in Italy, the N.A.M. of Milan, I moved to london and went further on with my studying, obtaining a Bmus Bachelor Degree at the Institute of Contemporary Music Performance. I have since played all around London and the UK with some of the most important Jazz and Blues artists, such as Eugene Bridges, Greg Miller, Marta Capponi, Giulio Romano Malaisi, Arturs Reirs and many others. My background is very rich and diverse, crossing over different genres and styles, and my playing has been influenced by musicians like Ron Carter, Paul Chambers, Jimmy Blanton, Ray Brown and James Jamerson.